Big Bear City, 2010, JN10012
Tenant improvements in existing 21,000 sq.ft. skating rink building, including game rooms, indoor rides, arcade area, and restaurant.
Services performed: HVAC engineering and drawings for City of Big Bear plan check, San Bernardino County Department of Environmental Health plan check for food service facilities, and competitive bidding.
Architect: Mountain Architecture.

Click on any image below for a larger view.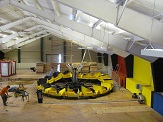 Funplex Big Bear construction
phase - originally the Big Bear
Indoor Ice Skating Rink